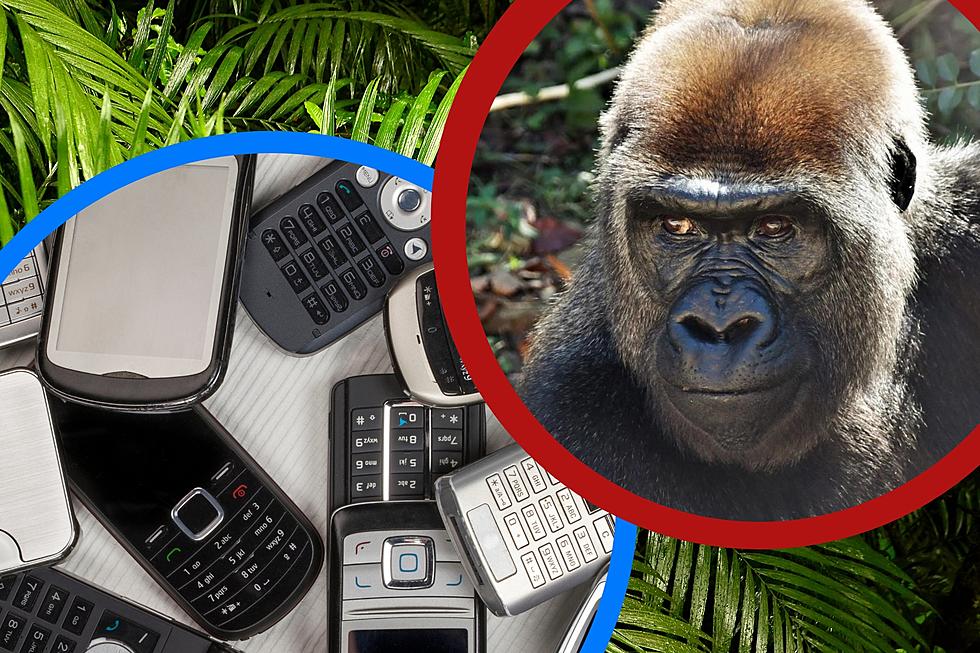 How Can You Help Save Gorilla Habitats? Start At The Little Rock Zoo
Gorillas and old cell phones - Canva
Did you know your old cell phone can help gorillas? No, they don't need to make phone calls or text anyone, they need materials out of old phones and tablets to help them keep their habitats. How can you help? Here you go... 
The program is called, Gorillas on the Line…Answer the Call, is now in the fifth year of its global cell phone recycling challenge. This event is organized by Gorilla SAFE with groups from all over the world, and your Little Rock Zoo encourages people just like you to collect small electronic devices like old cell phones and tablets, and bring them to the Zoo by April 30.
Small electronics are made with a mineral called coltan, which is mined in wild gorilla habitats in Africa. GIf, through recycling we can reduce the need for coltan mining, and that effort might save those habitats.
The cell phones and old tablets collected will be shipped to ECO-CELL and recycled to help reduce the need for mining coltan. In 2022, over 13,000 devices were collected and recycled worldwide.
Starting now and running through April 30, the Little Rock Zoo will be accepting cell phones, smartphones, iPads, iPods, tablets, apple watches, mp3 players, adapters, chargers, handheld gaming systems, and headphones. They do not have to be in working order.
Let's be honest here, who doesn't have an old cell phone or gaming device sitting in a drawer or gathering dust on a shelf? We all do, Now here's a plan that could do some good with that old device you would never otherwise pick up again. So, let's gather them up, ask your friends if they have one, stick them in one of those Amazon boxes stacking up in your garage and bring them in. You can drop them off at the front ticket windows, or at the drop box at Great Apes. Maybe we can do better than 13,000 this year!
If by chance you really don't have any items to recycle, but you still want to help, how about donating $5 directly to Gorillas On The Line, through this link, Give Five to Gorillas?
Want to find out more, visit LittleRockZoo.com.
LOOK: Must-do activities at every national park
Stacker
lists the must-do activities at every national park ranked by the annual number of visitors.
10 Actors Who Had Surprising Careers Before Hollywood
More From Good Time Oldies 107.5