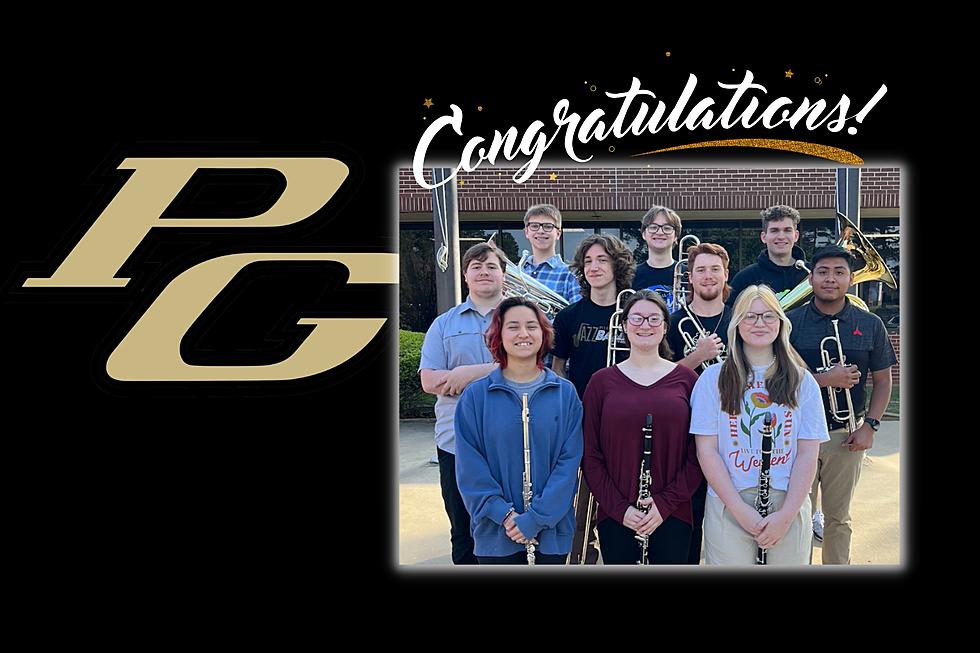 Ten PG Band Students Earn Texas Statewide Music Award
PG Band Students Earn Statewide Award - Canva
Falling into the category of, "How Cool Is This" are these students from Pleasant Grove High School, who will be honored as Texas Music Scholars at a concert on May 8, 2023.
Congratulations to all 10 of the students pictured below, they are:
Hunter Digby (12th, Cornet/Trumpet), Deanna Dyer (10th, Bb Clarinet), Loriann Hensel (11th, Bb Clarinet), Kayla Power (12th, Flute), Jackson Teague (9th, Euphonium), Zachary Dooley (12th, Percussion), Aaron Evers (11th, Tenor Trombone), Brett Ledford (12th, Tuba), Miguel Rodriguez (12th, Cornet/Trumpet), and Luke Williams (10th, Tenor Trombone).
PG Band Director Jay Sutton nominated these students, and the award will be given by the Texas Music Education Association, which sponsors All-State Bands, Orchestras, and Choirs. This prestigious award is given to students who have exhibited outstanding qualities in scholastic merit, musicianship, and citizenship in their school and community during the 2022-2023 school year.
According to the Release, the Texas Music Educators Association, headquartered in Austin, Texas, is an association of over 13,000 music teachers whose goals are to support music education in Texas, provide professional growth opportunities for educators, foster public support for music in schools and offer quality musical experiences for students.
We toss in our congratulations with all the rest, these students and their friends, families, and community must be very proud.
New Automated McDonalds in Ft Worth, Texas Gallery:
The fact is, this McDonalds is not "fully automated", they have a smaller staff working in the kitchen filling the orders, but the counter-person, all-to-often found with a bad attitude, has been eliminated in this dining concept. This new McDonalds is much smaller and has no seating for indoor dining. This is a take-out-only concept with all staff concentrating on getting the orders right. Will it work? We'll see.
All the Unanswered Questions After The Mandalorian Season 3
It was an interesting season of The Mandalorian, but it also left us with a lot of questions about the future of Star Wars.
More From Good Time Oldies 107.5