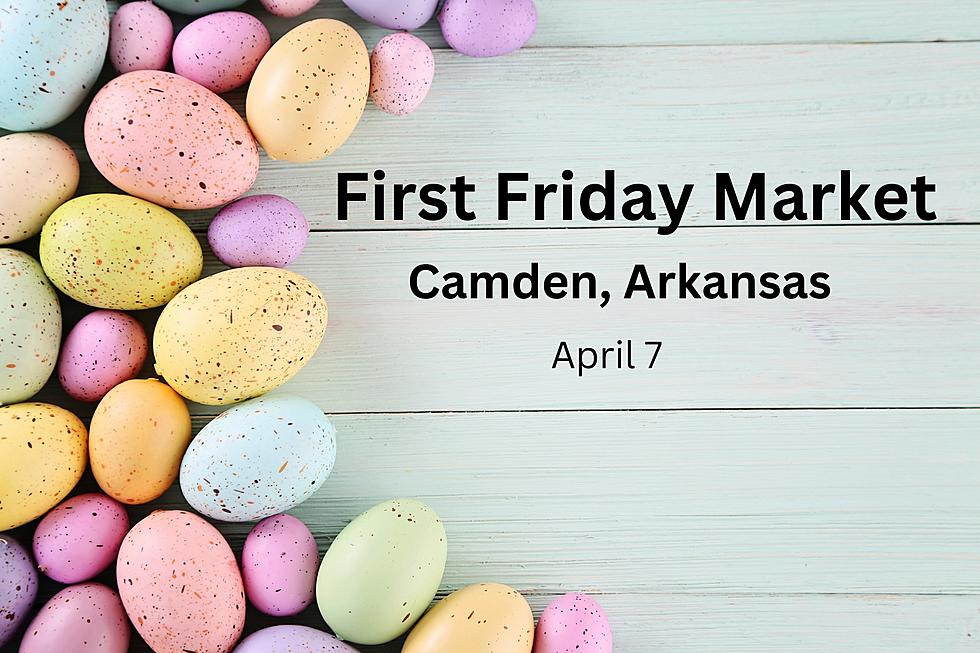 First Friday Market Kicks-off 2023 Season in Camden, AR
Canva
The place to be on Friday, April 7, Easter weekend is the First Friday Monthly Market in Camden, Arkansas.
First Friday Market
This event will kick off the 2023 season in downtown Camden with lots of fun and activities planned for the month of April where the theme is "Bloom Where You Are Planted."
With the market falling on Good Friday, Loreca Hutchins from Shelter Insurance will be having a special Easter Egg Hunt for children at the market. They can also visit the Easter Bunny during the evening and take fun photos.
Several first-time vendors will be showing their wares, with everything from special leather works, hand-thrown pottery, resin art, fresh-cut flowers, Easter flower halos, honey, pickles, fresh veggies, and farm-raised beef.
Two great food trucks will be located at the Washington Street and Madison Ave intersection ready to serve you. "Crawfish Haven" will be set up with wonderful Cajun-cooked crawfish and shrimp. To ensure a good variety they will also have Mortuary BBQ,  always a crowd favorite.
If you are looking for a delicious treat Headbangers Creamery will be offering awesome ice cream tacos, floats, and other ice cream treats. Other food items can be found throughout the market from flavored popcorn, baked goods, macarons, cheesecake jars even tea party boxes.
There will be live music with the band The Experience, performing jazz, blues, and other hits. During the band, breaks enjoy a live demonstration from Dance 2 Fit.
Downtown merchants will be open late for all your shopping convenience offering great First Friday specials.
Don't miss the First Friday Monthly Market in Downtown Camden, April 7, 6 PM – 9 PM.
For more information please visit their Facebook page. Camden, Arkansas is 90 minutes from Texarkana.
This Stunning Mansion is the Largest House in Arkansas
Photos of the Largest House in Arkansas
More From Good Time Oldies 107.5