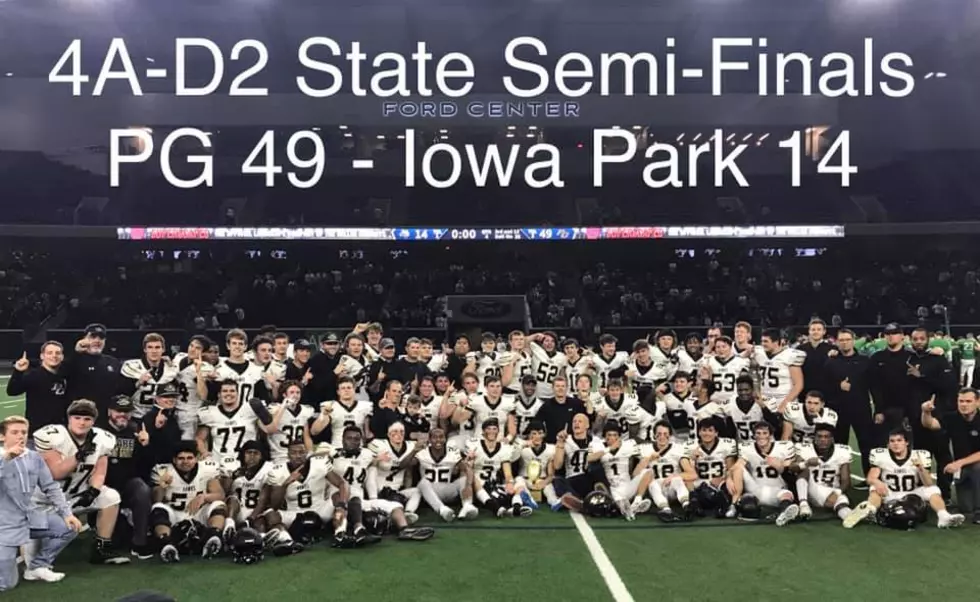 WTG Pleasant Grove Hawks – PG Returns To State Championship Game This Friday!
PH Hawks WIN - PG Hawks Sports Facebook
Last Friday night Pleasant Grove Hawks did something amazing, they won their semi-final game to guarantee a repeat shot at the State Finals in Class 4A Division 2. That's awesome!

Friday night our Pleasant Grove Hawks defeated the Iowa Park Hawks at the Star in Frisco, Texas 49-14.
This week is it... Friday, December 21, at 11 AM the Hawks (13-2) return to the Mother Ship, AT&T Stadium in Arlington, Texas to take on the Gobblers of Cuero (14-1).
A quick look ahead would show that Cuero has a slight advantage, statistically speaking. I don't by it though, these games are won and lost in the trenches, and that's where PG has the advantage in my humble opinion. This will surely be the toughest game this season, as it should be, but our guys are up to the challenge. Never, ever underestimate the heart of a champion, PG has the talent and the heart to cap off this amazing season with a repeat State Championship. We're behind you all the way PG!
Pre-sale tickets are being sold at PG Central Office from 8 AM - 4 PM Monday-Wednesday, and again on Thursday from 8 AM till noon. Cash only, please.
$10 for student
$14 for adult
Official sendoff is Thursday from 12:30 PM - 1:30 PM at Pleasant Grove High School located at 8500 N. Kings Hwy. Facebook Page
If you can't make it to the game, it will be televised live on Fox Sports Southwest.
Good luck Coach Gibson and all of PG! From your friends at Kicker 102.5, Power 95-9, Majic 93.3, Eagle 106.3, and KOSY 790AM.
More From Good Time Oldies 107.5