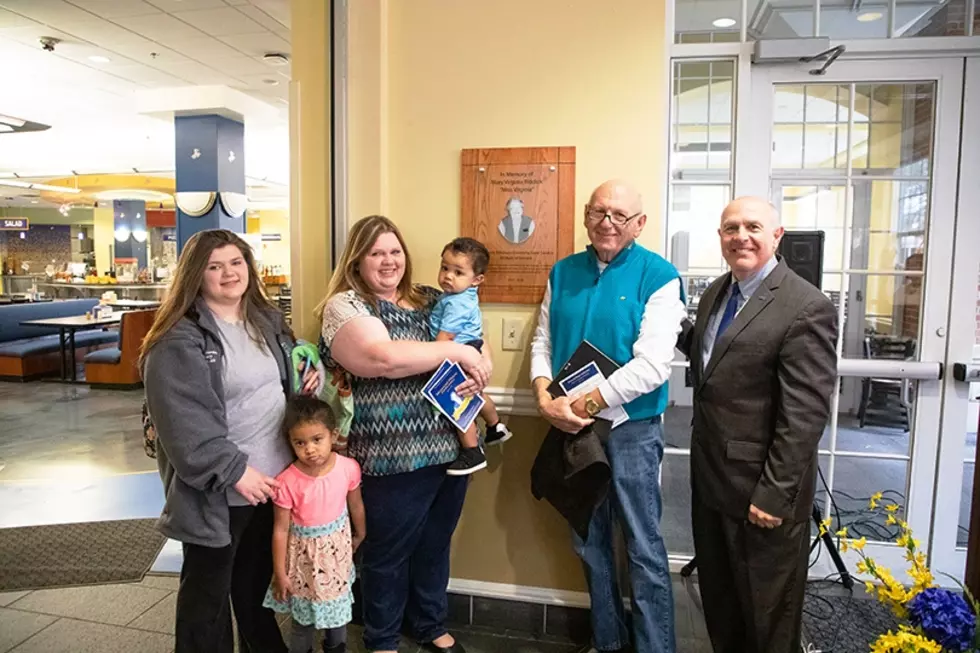 Spirit of SAU Award Bestowed on Family of 'Miss Virginia' Riddick
The family of the late Mary Virginia Riddick attends the plaque dedication ceremony at the SAU Cafeteria in the Reynolds Center. Dr. Trey Berry, right, president of SAU, made the presentation. Pictured from left to right, are Miss Virginia's great-granddaughter, Heather Mykel; her granddaughter, Brandi Barge, and son, Larry Riddick. Also pictured are Miss Virginia's great-great-grandchildren. - SAU
The late Mary Virginia Riddick, or "Miss Virginia" as she was affectionately known to students and co-workers, was honored with a memorial plaque dedication at Southern Arkansas University on Monday, April 1, 2019. 
Miss Virginia, who was employed with Aramark Professional Food Service and previous food service providers at SAU for 39 years, passed away on September 4, 2016. Her warm smile, kind greetings and open heart were commemorated by Dr. Trey Berry, SAU president, and others during the ceremony.
"We want to recognize a very special lady on a very special day, Founder's Day, the birthday of SAU," Berry said. "On this day, we always try to remember those who came before us and made SAU such a special place."
He said she "dispersed love from the counter," sometimes even tough love, as he once discovered on a day when he forgot his ID. "She said, 'Okay, Dr. Berry, I'll let you pass this time,'" he said, to heartfelt laughter.
The Press Release also stated that Roger Giles, vice president for administration and general counsel, said he had known Miss Virginia for more than 30 years. "She was an amazing individual," he said, praising her warmth, sensitivity, and genuine caring for students. "And she made the best chicken salad sandwiches," he recalled.
Regina Ford, Aramark production assistant, said Miss Virginia epitomized "the old-fashioned work ethic – do what you do, and do it well. She always gave 100 percent. She would know all the students by name. We all can take a lesson from her work ethic and compassionate heart."
Adriana Valentine, SGA president, said Miss Virginia was one of the reasons SAU felt like home. "She was always smiling. She will be truly missed." Evelyn Escamilla, RHA president, said Miss Virginia's impact will continue to be felt on campus, and that she represented the spirit of SAU.
Berry reiterated those remarks, bestowing on Miss Virginia's family the Spirit of SAU Award, given posthumously in honor of Miss Virginia's personification of what this annual award represents. "SAU is about more than bricks and mortar," he said. "It is about those people who touch the lives of students."
Larry Riddick, Miss Virginia's son, thanked Berry and SAU. "It is overwhelming," he said of the University's support.
Dr. Donna Allen, vice president for student affairs, offered her warm remembrance of Miss Virginia. "I loved her like one of my family," she said.
More From Good Time Oldies 107.5