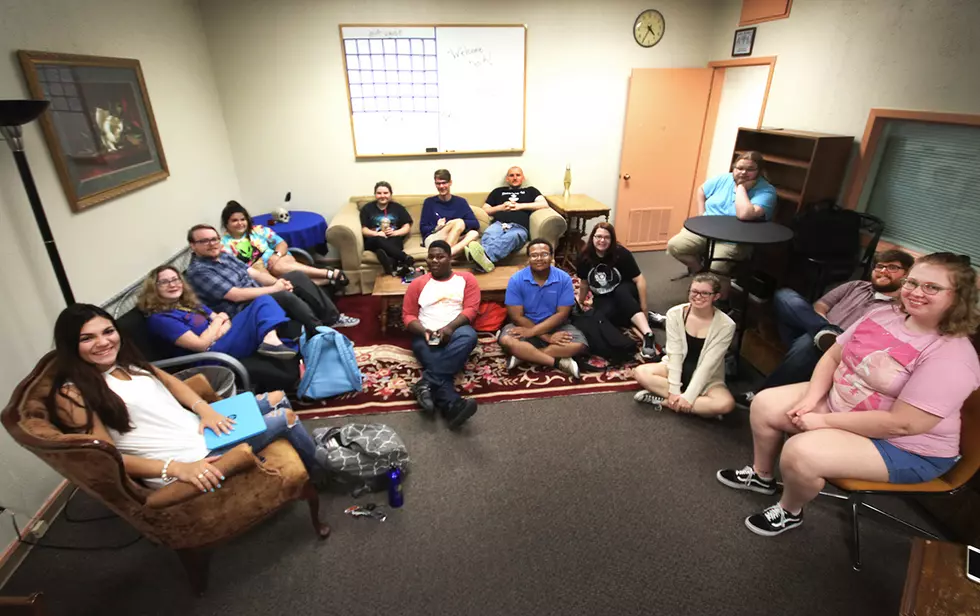 SAU Students Create Their Own New Space in Harton Theatre
SAU
Theatre students at Southern Arkansas University now have a place to hang out between classes at Harton Theatre thanks to the efforts of student volunteers over the summer. They have also transformed unused space into more usable areas for production.
An underutilized room in Harton has been converted into a student lounge thanks to Joey Kaar, a junior Musical Theatre major from Magnolia, Arkansas, and 10 other student volunteers.
According to a press release, Kaar said that in early July, he recognized a need for a space students could use while waiting for classes to begin. He decided to covert a room that had previously contained dozens of boxes, chairs and office furniture into a comfortable lounge.
"I just finished hanging those pictures yesterday," Kaar smiled, pointing to pictures on a wall. The room is now orderly and neat, furnished with couches, tables and chairs.
"We are a family, and it's good for us to have a place to hang out together," Kaar said of theatre students. "Theatre enrollment has been growing, and so we're just trying to expand wherever we can. The beauty is that all these things were already here. We are just putting these items to good use."
Kaar has performed in several SAU theatre productions, including "Hairspray," "You're a Good Man, Charlie Brown," "The Little Mermaid," and "A Midsummer Night's Dream." He was the light board operator for "Dial M for Murder," and will be sound designer on this fall's production of "Antigone."
Assisting him in creating the student lounge were Joann Shaver, James Rich, Stephanie Blase, Cat Jones, Bodee Starr, Emma Walker, Zack McJunkins, Caleb Russette, Courtney Taylor, and Parker Hamm.
Wally Eastland, production designer, said Kaar came to him during the summer asking if the room could be turned into a student lounge. Eastland told him "it was a go" if it was a student-driven project.
"Joey took over the project and organized it all," Eastland said. "We determined there was space that could be used more efficiently. We were able to turn another room … into a Production/Stage Management office that allows our student stage managers to have a space to work, store their supplies, and have a small meeting space."
A related project, Eastland said, was the reorganization of the scene shop. "Again working with students, we emptied the space, cleaned it thoroughly, and are now setting up the tools so that the work flow makes sense and there is room to move."
The student lounge will receive a few other donations, including a Blu-ray player, and be outfitted with a TV and computers for use by the students.
Deana Taylor, campus and community welfare coordinator, donated electrical components as well as a coffee maker.
"As a staff member at SAU, I'm glad to be able to help the students with their efforts to create a homelike atmosphere for themselves, as the theatre students have done with the new lounge," Taylor said. "I'm excited about the volunteer opportunities available to our students this year on campus, in Magnolia and Columbia County. We have a great family of students at SAU this year who are already anxiuos to get started with community service. Their help is so important to the many people needing help in our area."
More From Good Time Oldies 107.5