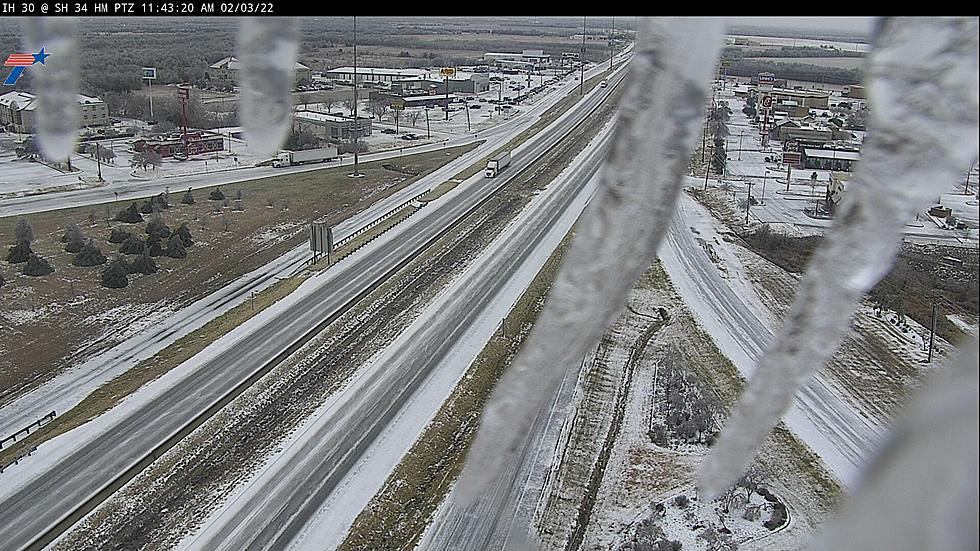 [UPDATED] Freezing Traffic Cams From Dallas to Texarkana
IH-30 at SH-34 in Greenville - Texas DPS
The Texas Department of Public Safety provides traffic cameras in highway locations all over the Great State of Texas. There are a lot of these cams in major metropolitan areas of course, much fewer around us here in the Texarkana area, but they do paint a good picture of what's happening with our winter weather today.
Dallas
Let's start off in the Metroplex on I-30 eastbound at Lake Hubbard Parkway where a heavy-duty wrecker is pulling off a jackknifed 18-wheeler.
I-30 in Dallas looking east toward Bass Pro, taken at 12:09 PM.
Rockwall
In Rockwall this is a shot of I-30 at Mims Rd.
Royse City
This cam is in Royce City on I-30 at FM 548 facing west I believe near the new Buc-ee's.
Greenville
This camera is located in Greenville facing east and thankfully a larger image, you can easily make out the location due to Lowes and Chik-Fil-A on the south side, and the Cracker Barrel on the north side of the freeway.
Mt Pleasant
UPDATED - This camera is located just before you get to Mt Pleasant on I-30 heading eastbound. The picture was taken about at 12:53 PM.
New Boston
UPDATED - This image was captured at 12:42 PM just before you get to New Boston in I-30.
Hooks
UPDATED - This cam is located right near Hooks also facing east, the image was taken at 12:53 PM.
Nash
This cam is located in Nash facing west looking at the overpass of FM 989 (Kings Hwy). This image was taken at 9:40 AM.
Texarkana
UPDATED - Here we are, this image in Texarkana was taken at 12:53 PM on I-30 facing eastbound overlooking the State Line exit.
We are not sure why these images are available to us in different sizes, that is a DPS issue, we can tell you that if you would like to see each image as you can, click on the image with your phone or click on the image and open in a new browser window if you are on a PC.
We highly recommend not going to the Dallas area or anywhere near it today and maybe even tomorrow.
The safest way to travel today is to not travel today.
LOOK: What 25 Historic Battlefields Look Like Today
The following is an examination of what became of the sites where America waged its most important and often most brutal campaigns of war. Using a variety of sources,
Stacker
selected 25 historically significant battlefields in American history. For each one, Stacker investigated what happened there when the battles raged as well as what became of those hallowed grounds when the fighting stopped.
These are the battlefields that defined the United States military's journey from upstart Colonial rebels to an invincible global war machine.
50 Most Popular Chain Restaurants in America
YouGov investigated the most popular dining brands in the country, and Stacker compiled the list to give readers context on the findings. Read on to look through America's vast and divergent variety of restaurants—maybe you'll even find a favorite or two.
More From Good Time Oldies 107.5