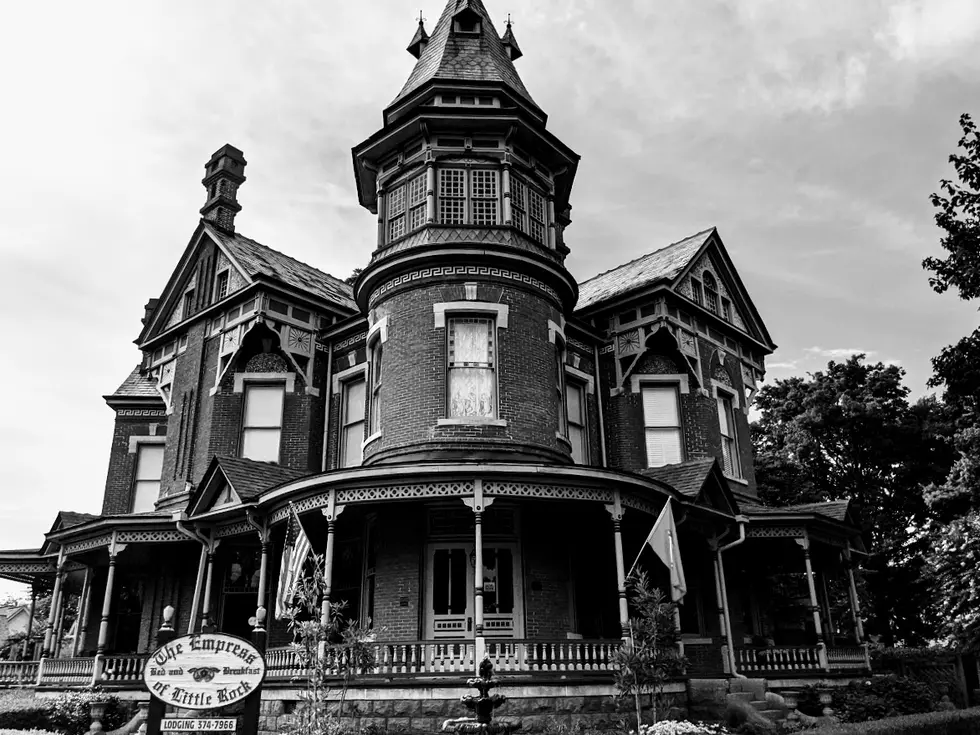 A Fright When You Spend The Night? Arkansas' Most Haunted Hotels
The Empress of Little Rock BnW - JimWeaver
I have stayed at two of these hotels and B&Bs listed here, and so far, very little luck in our ghostly investigations, but that doesn't mean you shouldn't give it a go.
HauntedRooms.com has a report on the 9 most haunted hotels in Arkansas and since this is the witching season and all, I thought I might share a few with you, along with my experiences at two of them.
5: Inn At Carnall Hall - Fayetteville, AR
You know what it feels like when someone sits on the bed next to you, imagine that happens and when you look up to see who it is, no one is there. But the indentations as if someone were sitting there next to you are there. Would that creep you out just a little bit? That's just one of the things reported at the Inn at Carnall Hall in Fayetteville.
The building began its life in 1905 as a woman's dormitory, it is now a 50-room hotel in which guests report a variety of unexplained noises, flickering lights, and even a headless and footless floating apparition in white.
Website: The Inn at Carnall Hall
4: Basin Park Hotel, Eureka Springs, AR
The Basin Park Hotel was built in 1905 and has a lot of history that unfolded within those walls. There may have been a few spiritual imprints left as well, and the hotel is not afraid to talk about their ghostly situation. In fact, there are ghost tours you can take around the property on a regular basis. Just might have to take that tour next time we're up that-a-way.
Website: Basin Park Hotel
3: The Empress of Little Rock Bed & Breakfast - Little Rock, AR
What a magnificent B&B near downtown Little Rock. My wife and I stayed here one night on the way back from a long week of vacationing all over Arkansas and Southern Missouri. What a treat. It reportedly has hauntings from several ghosts, including an African American maid, a salty old Sea Captain, a woman in pink, plus disembodied voices and smells. You never know who you might find in the poker room upstairs. While we had a few hits on the K2 and some voices on the ghost box, nothing definitive.
Nothing disappointing either, a beautiful place loaded with antiques and history and a terrific breakfast. The owners take good care of their guests.
Website: Empress of Little Rock Bed & Breakfast
2: The Baker, North Little Rock, AR
Construction started on The Baker in 1916 and reports have it that two ghosts are frequently seen there, a construction worker who goes by the name Jefferson, and the ever-popular "woman in white."
Website: The Baker
1: The Crescent Hotel, Eureka Springs, AR
The Crescent Hotel in Eureka Springs is touted to be one of the most haunted in the country with all kinds of ghostly sightings reported there. Hauntings from a cat, a stone mason, Breckie, Dr. John, and Theadora just to name a few. Click on this link if you would like to read more about The Crescent from my wife and I's experience a couple of years ago. The Crescent Hotel and Spa was built in 1886 and is as wonderful and creepy as you might expect from a hotel that's been around that long. You really should stay there at least once.
Website: Crescent Hotel and Spa
This Arkansas Mansion Has its Very Own 1.2 Mile Race Track
This beautiful $6.7 million mansion in Arkansas in Fayetteville has a 1.2-mile race track, a big garage/shop, a movie theater and more.
Haunted Crescent Hotel and Spa - Eureka Springs, AR
The Oldest Public Structure & House in Arkansas
The Jacob Wolf House in Arkansas was used as a home and a courthouse.
More From Good Time Oldies 107.5